Class of 1978
Chatham High School
Chatham, Massachusetts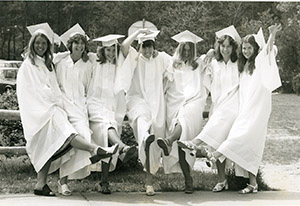 12 July 2018: 40th Reunion details
I've sent out information via email about the details of the 40th reunion. If you are in the class and haven't received the email, please let me know. I've also posted a version to the Facebook group.
If you know of any classmates who aren't on the class mailing list or who haven't joined the class facebook page HERE, please email us at reunion40@chatham78.org and let us know how to contact them.
See you there!
---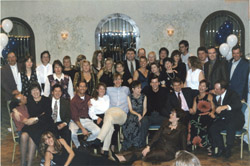 14 September 2017: Save the Date: Class of 1978 40th Reunion!
I'm pleased to announce that the planning for our 40th reunion is underway! We will be having our reunion at the Orleans Inn on Saturday, September 15th 2018. Out of towners can make room reservations there now. There will be additional announcements of events during reunion weekend that will be sent out in early 2018.
If you know of any classmates who aren't on the class mailing list or who haven't joined the class facebook page HERE, please email us at reunion40@chatham78.org and let us know how to contact them.
Save the date!
---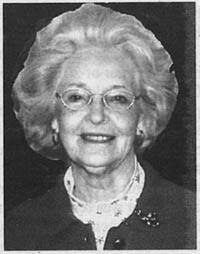 7 April 2015: Leona Goodspeed obituary In recent years, there have been a couple articles in the Cape Cod Chronicle written by my 5th grade teacher, Mrs. Goodspeed, including a really wonderful one she wrote about her memories of playing softball when she was in the Chatham schools.
When I read the most recent one, perhaps a year ago, I wrote a letter to her saying how much I enjoyed her articles and letting her know what was going on in my life. As you would expect from her, I received a nice reply from her, in perfect penmanship, saying how she remembered me and our class, how her daughter used to live in my town and how she was doing. It was really sweet and made my day.
I'm sorry to report that the current Chronicle has her obituary, saying that she was 94 when she died. The world is a lesser place without her.
Click HERE to read the obit.
---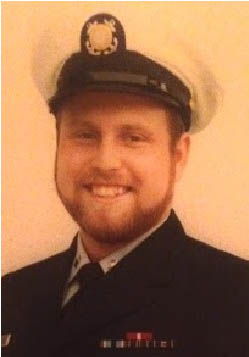 24 September 2014: Mark Edmund Harding obituary I'm sorry to report that our friend and classmate Pudge has lost his brave battle with ALS.
It has been a privilege to know Mark, to be his friend and to get to know his family these past years. It has also been a blessing to be able make his day a little brighter by getting together with so many classmates several times up at his home in Ellsworth.
Here is a link to the obituary. CLICK HERE
---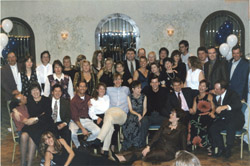 2 Feb 2014: Ancient reunion photos unearthed! Audrey Greenway recently shared with me an old photo album she found that contained photos of the CHS Class of 1978 20th reunion. The origin of these photos is somewhat of a mystery as Audrey doesn't remember where they came from or who gave them to her. It looks to me as if they came from multiple people as they seem to have been taken with more than one camera and the processing is from multiple sources.
As an added bonus, there are a four instamatic images at the beginning of the album from the 1976-1978 era including a prom shot, a senior skip day shot and a shot from a sleepover at Linda Warde's house!
Audrey was kind enough to let me borrow the album and scan them so we all could be equally amused with what we looked like at age 38. If you'd like to see them, click HERE to go to the album.
Thanks, Audrey!
---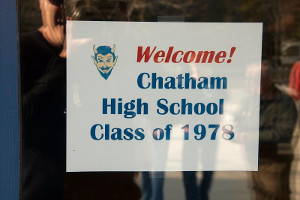 9 September 2013: Less than 5 weeks! There's less than five weeks until Columbus Day Weekend and our 35th reunion on 11,12,13 October 2013. Tami Fulcher andr Linda Meservey Hutchinson must have a check from you by no later than 30 September if you plan on attending. If you don't know what or where to send it, contact me at the email address at the bottom of this page and I'll hook you up.
If you are planning on attending, please send Linda your check soon! I'm looking forward to seeing everyone there!
---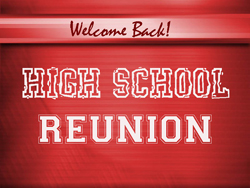 24 June 2013: PUT IT IN YOUR CALENDAR! By now you all should have received an invitation for the 35th reunion to be held the weekend of 12 October 2013. (Columbus Day weekend.) If you haven't, contact Tami Fulcher or Linda Meservey Hutchinson. If you don't know how to do that, contact me at the email address at the bottom of this page and I'll hook you up.
If you are planning on attending, please send Linda your check soon!
---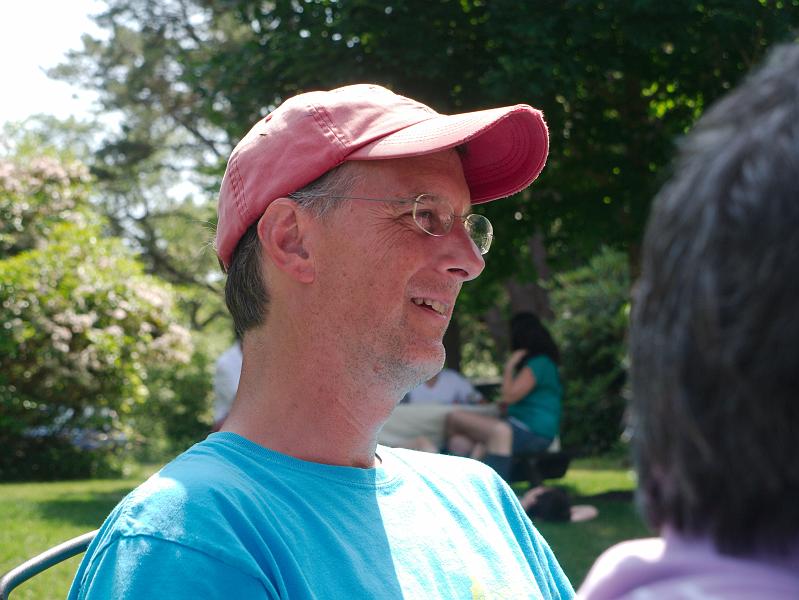 June 24, 2013: Yesterday, a bunch of us got together at Jim Bloomer's wonderful house in Brewster for an informal BBQ. I hadn't seen Jim in 30 years! Here are a few photos I took there. BBQ photos
---
24 June 2013: Here are some great pictures taken by Tami Fulcher at the Class of '78 BBQ at the Bloomer's in Brewster. Link to pictures on facebook [ UPDATE: It appears Tami deleted the photos from there, hence the broken link here. ]
---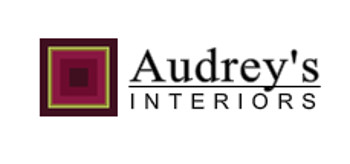 June 24, 2013: There was a nice writeup in the Cape Cod Times about our own Audrey Greenway's business, Audrey's Interiors. Bedroom makeover: Operation less shabby, more chic
---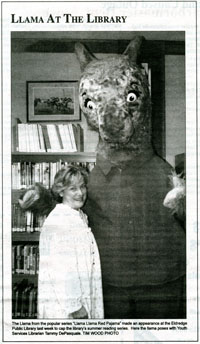 September 2012: I saw this in the Chronicle today and couldn't resist posting it. Sorry Tammy! If you want to see our own Tammy DePasquale with what seems to be a 9-foot Llama, click on the photo to the right. I hope you are all doing well out there.
---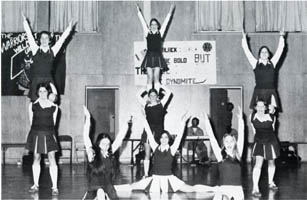 September 14, 2011: Most of you already know about the impending regionalization of Chatham and Harwich which will result in the new Monomoy Regional School District. A side effect of this will be elimination of a school known as Chatham High School and a team known as the Blue Devils.
I recently received an email from Jenny (Young) Smith about a new Facebook page from the CHS Booster Club. She writes:
Hi Jim--
Hope all is well with you. I'm emailing to let you and the Class of 78 know that the Chatham High School Athletic Booster Club has started a new facebook page as a tribute/time capsule of sorts to remember sports of Chatham High School as this will be the last official year of CHS as we all knew it. Starting 7/1/12 the Monomoy Regional School District will take over. The link is below and I thought you could post it on the class website.
http://www.facebook.com/pages/CHS-Athletic-Booster-Club/247209958654502
Anyone with old pictures or memories are welcome to post to the site. The club is also thinking of having a float in the 4th of July parade as part of the Town's 300th if anyone is interested in partcipating.
Take care,
Jenny
---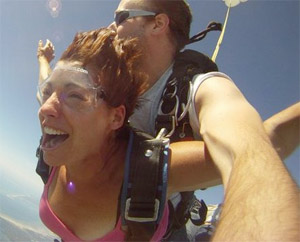 July 2011: The July 14, 2011 issue of the Cape Cod Chronicle had a front page article about our classmate Audrey stepping out of a perfectly good airplane two miles above Chatham Airport.
She did this with her father, Paul, on the occasion of his 80th birthday, if you can believe that.
For those of you who don't get the Chronicle, I've reproduced the article below. My hat's off to you Audrey and Paul!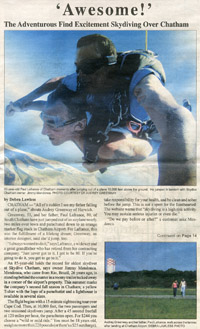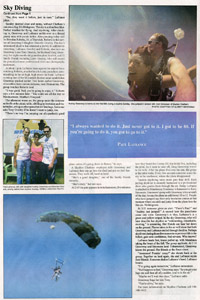 ---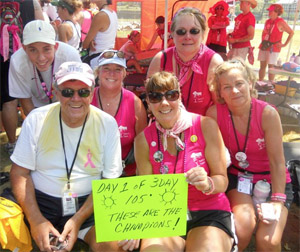 July 2011: A shout out and hearty congratulations to three of our classmates, Goober, Tammy and Lauren who participated in the Komen 3-day walk for breast cancer in July.
This is a 3-day long, 60-mile walk in Boston that took place during some of the hottest 100+ degree days this summer.
Tammy and Goober did this last year as well, and this year Lauren joined them for the first time.
Great job, girls!
---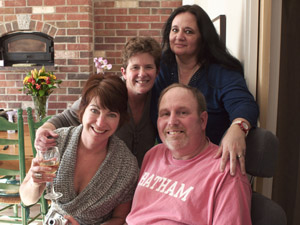 April 2011: Our classmate Mark Harding, a.k.a. Pudge has been having some medical issues lately and couldn't make it down to Chatham, so a bunch of us went up to Ellsworth, Maine in April to have a party up there! It was an awesome time and full quarter of our graduating class showed up!
I drove up with John Schweizer, Lauren (Macbeth) Geanacopulos, and Erin (Hackett) Woodard which was a party in and of itself. Thanks for driving, John!
I took a bunch of photos which you can view HERE.
---

March 2011: I'm sorry to report the passing of our classmate Jeff Proudfoot. I have some links here to the obit in the Cape Cod Times and a nice page at the funeral home that has a great Video Memorial and Guestbook. There was a get together in Chatham in July that was attended by many of our classmates.
---
6 Dec 2009: Yesterday, I got my November 26 Cape Cod Chronicle in the mail. (Thanks, Chronicle, for the timely delivery.) It was a good week for the CHS Class of 1978.
There was an awesome review of The Christmas Carol at The Acadamy Playhouse in Orleans starring our own Rich McKey as Scrooge. The reviewer says "McKey is terrific." Way to go, Rich! Playing through 13 December. Call 508-255-1963 for reservations.

Just a few pages later on the Chatham School beat pages was a nice picture of the lovely Tammy DePasquale as she "enraptures" the fifth grade students.
Click to see larger versions. The larger image for Rich shows the entire review.
Our Class of '78 karma wasn't at 100% though: Despite two pictures of the Chatham Merchant Association's fashion show, there was no picture of CMA president Heather McGrath. What gives Heather? :-)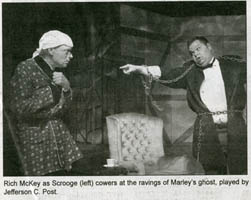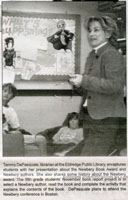 ---
16 Sep 2009: Yesterday I forgot to include the info Tami put on the back of the picture:
9-10-09 Tami (Kelley) Fulcher, Cathy (Wheldon) Durand, Anne Corrigan, Susan (Razinha) Carran, Linda (Meservey) Hutchinson and Louise (Mylott) Miller.
---
15 Sep 2009: Thanks to Tami (Kelley) Fulcher for sending me a nice note with a couple pictures. She wrote:
"I had the pleasure of bumping into Jim Stapledon earlier this summer at a family cookout. I hadn't seen him since graduation. He looks great and is doing well.
"A group of us got together at The Weatherdeck to catch up with a former classmate that we haven't seen since 8th grade, Louise Mylott.
"Linda Hutchinson found her on Facebook and it just so happened that Louise and her husband, Seth were coming to the Cape. So we arranged to meet someplace to catch up on things. We had a great time!"
Looking great, girls! Thanks for the pictures and the note, Tami! As usual you can click on the small icons to see the pictures larger.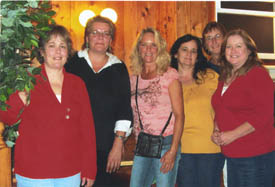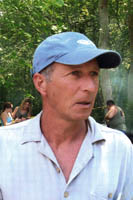 ---
26 Nov 2008: We're famous! We're somebody now. This is the kind of spontaneous publicity -- our names in print -- that makes a class. Things are going to start happening for us now. (From the 20 Nov 2008 issue of the Chronicle.)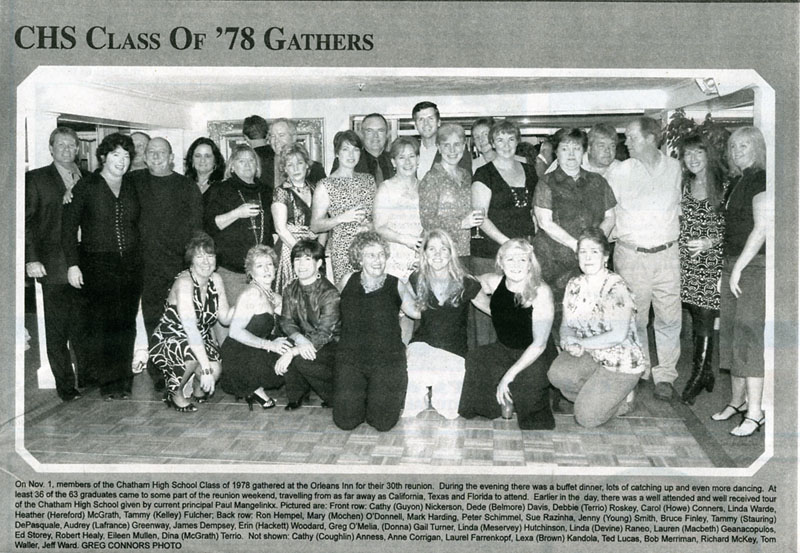 ---
13 Nov 2008: Tim Wood from the Cape Cod Chronicle says that there should be a mention of our reunion in a future Chronicle issue "probably next week" which I might guess means around 27 Nov.
And just a reminder: My reunion photos and Audrey's can be seen here while Carol's husband Greg's photos can be seen here.
---
11 Nov 2008: Here's a great group photo from the thirtieth reunion at the Orleans Inn by Carol's husband Greg Conners. Click on it for a larger version.
More of Greg's photos can be seen here.
---
Later on 4 Nov 2008: I added Audrey's pictures to the others HERE.
---
4 Nov 2008: I can't believe it is over. What a great time I had. The turnout was amazing. I don't think anyone left without having a great time.
Thank you so much to Goober and Audrey for the efforts to make the reunion weekend such a huge success. And big thanks to Greg O'Melia and CHS Principal Paul Mangelinkx for the great tour of the School on Saturday.
I have put the pictures I took online. See them all by clicking HERE.
Obviously, click on the small pictures to see larger versions.
On each picture page, there is a little icon in the lower right that looks like a computer with an arrow pointing down towards it. That icon means "download the full resolution version".
There's also a button called "Order" which will allow you to automatically transfer the picture to a print service called Shutterfly that will send you prints for 15 cents for each 4x6. I haven't actually used this service myself, but I've heard good reviews and it might be a convenient way to get some prints. If you do get some prints from this service, let me know how it worked out for you.
Hope you like them.
---
2 Nov 2008: Congratulations to Anne Corrigan, who was at Campari's on Friday, but (sadly) missed the reunion due to the fact that she was becoming a Grannie! Are we really old enough to be grandparents? Yikes.
---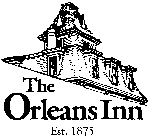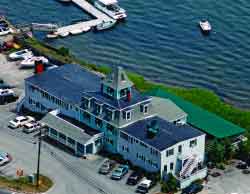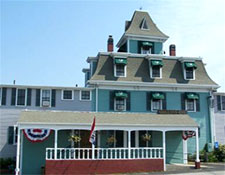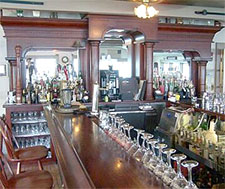 28 Oct 2008:It's here! I can't wait to see you all this weekend in Chatham. Here's the schedule of events from Goober:
Friday, 31 October 7pm: Informal gathering at Camparis in Chatham
Saturday, 1 November 10:30am: Chatham High School Tour
Saturday, 1 November 6pm-11pm: Reunion dinner at the Orleans Inn
Sunday, 2 November 11am: Potluck Brunch at Audrey's home in Harwich
All the details are here, on the official invitation: CLICK
---
| | | |
| --- | --- | --- |
| | | 28 Oct 2008: Jeff Ward sent me some interesting pictures from when he was in Iraq in 2004-2005. Click HERE to see them. |
---
Time is running out! Goober needs to receive your reunion dinner registration by 17 October if you want to come to the reunion. Download the form by clicking HERE. I look forward to seeing you all there. -jjd
---
Save that date! Goober et. al. are starting the planning for our 30th reunion to be held at the Orleans Inn on Saturday, November 1st, 2008. Exact times will follow.
---
| | | | |
| --- | --- | --- | --- |
| | | | 8 Aug 2008: Tami Kelley Fulcher wrote me a really sweet note in the US Mail and included some prints from photos she took at the 25th Reunion. Click HERE to see them all! |
---
| | | |
| --- | --- | --- |
| | | 16 July: The Cape Cod Chronicle this week has pictures of two of our classmates -- Tammy at the Fourth of July Parade with a Wild Thing (!) and Heather with the UPS man. Click on the icons on the left to see the pictures larger. Tammy must have incriminating pictures of the editor at the Chronicle since her husband Dave was also in the paper this week taking delivery of a new ambulance. |
---
| | |
| --- | --- |
| | 26 June: Back in March when we were first talking about the upcoming reunion, Heather sent me some photos she took at the 25th reunion that I promised to put up on chatham78.org. I have finally done so! Sorry for the delay. I look forward to more of these shenanigans in November. Click here to see Heather's pictures. Heather says "This was the "after-party" at the Land HO!, for those of us who still had energy! The Last photos are at Fig's house the next day." Thanks Heather! |
---
25 June: Goober sent out an email with this somewhat firm schedule of events for the 30th Reunion to be held the weekend of the 1st of November 2008:
Friday afternoon - Tour of the high school
Friday night - Camparis
Saturday night - Dinner & dancing at Orleans Inn (we have booked a DJ)
Sunday morning - Brunch at Audrey's
She asks that people email her letting her know if they are coming and whether they are bringing someone.
---
Goober's putting together an email list of the class to keep us informed of the plans. If you want to be on the list, email me at the address at the very bottom of this page. If you want to know how to send to the list, let me know. (I'm not putting the address here to try to avoid spam.)
I look forward to seeing you there!
Older stuff
Here's some older class stuff circa our 25th reunion. CLICK HERE
---
email Jim: webmaster@chatham78.org